Multi-Touch Table Side Project
by William Lee Sims · 03/11/2012 (7:07 pm) · 7 comments
I'm truly sorry that I've not been on the T2D forums as much as I would like, but I have my excuses all prepared!
The Distraction
Last September I took a job in the defense industry. It was a horrible gig, but it overvalued my time in a way I couldn't ignore. That slowed down development to a crawl.
The Return
After I year, I quit the job and got back to work with our company, Machine Code Games. Yippee! We finished
Labyrinth: Caverns of 2073
. We also finished a small Android app for the Korean Marketplace.
The Future
Now we've started on a new on-line project. It's a collectible card game based upon our 2073 Universe. It's our first attempt at this, so we're going to document our progress on blog,
CCG 2073: A Journey from PC Games to the Online World
.
Finally, I've been heavily modifying T2D to support multi-touch.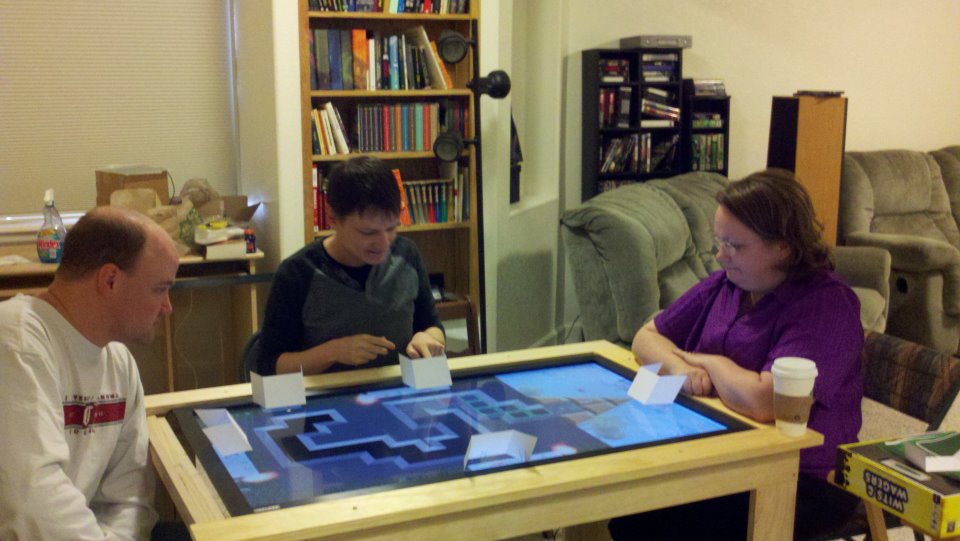 We've got 9 games completed with 2 more on the way. Most are in T2D, but two are in Javascript/Canvas/Chrome.
Completed Games:
Bulletball - Keep the silver ball away from your base.
Concentration Sweep - A combination of the card matching game and Mine Sweeper.
Gem Hoarder - A commercial game that I will not name, but is great for simultaneous play.
Solitaire Dice - A game created by Sid Sackson that turns randomness into competition.
Space Shooter - An arcade game of spaceships fighting it out.
Wits and Wagers - A tool that helps the game "Wits and Wagers" go much more quickly.
Yacht - A fair version of the pre-cursor to Yahtzee.
Hold 'Em - A poker game.
Golf - A quick card game to play in the middle of game days between harder games.
Almost Complete Games:
Tropical Treasure - Race others to find treasure on an island.
Hansa Teutonica - A commerical board game that we're trying to convince the publisher to make.
Here's video of some of the completed games in actions:
Machine Code Games
William Lee Sims